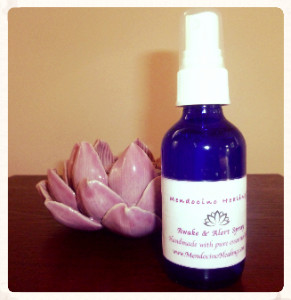 Handmade Aromatherapy products individually created for YOU are now available upon request! 
Treat yourself to an all natural aromatherapy product, custom-made to meet your needs.

These handmade products also make great gifts (hint – Valentine's Day is coming up). 
Spray Essences, 2oz. glass bottle, $15 each incl. taxes

Awake & Alert (provides a boost of energy to stay awake and focused)
Cheer Me Up (brings sunshine, joy and smiles into your day)
Relaxed & Balanced (grounding, soothing and harmonizing)
Yoga Mat Cleansing Spray (spray mat before your practice to cleanse your mat and energize your senses)
Happy Travel (Anti Jet Lag & Stay Healthy)
In Mood for Meditation (calming, meditative, zen)
Feeling Confident (boosts your confidence with a hint of playfulness)
Irresistibly You (flowery sensual notes carry you to exotic summer nights)
Chakra Essences (available for all 7 chakras)

Oil Essences
customized to your specific needs, price depending on ingredients and size of bottle

Facial Oil Blend
Massage Oil Blend
Cedarwood and Juniper Aftershave, 4oz. glass bottle, $20 incl. taxes
all natural, antiseptic, deep and woody fragrance
All natural Hand Sanitizer
with moisturizing aloe vera and antiviral, antibacterial, anti fungal and antiseptic essential oils, cooling, and even helps relieve itching
available in 1oz ($8) or 2oz ($14) bottles
Rich and Royal Regeneration Flower Cream
highly fragrant, nourishing and luxurious creme fit for a queen
price depending on size of jar

I am here to answer any questions, provide more information or hear about your special request!
Order your essence today!
I look forward to hearing from you!
Disclaimer
Please note: In complying with the FDA regulation, a sign of warning: "The safety of these products have not been determined".
However, I assure you only products of impeccable quality that have been thoroughly tested on family and friends. I pledge that all products contain NO artificial fragrances, colors, preservatives, chemicals or any animals products. Please consider that the majority of goods including labeling are made by hand so that irregulars may occur. Please store all aromatherapy products in a cool and dry place and note that none of them are for consumption but for external use only. Items sold are not refundable or exchangeable with a few exceptions.