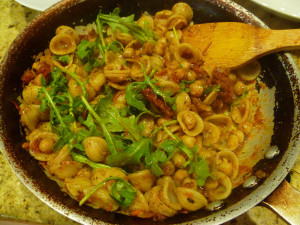 This vegetarian, vegan (if you omit the cheese), and delicious recipe brings the flavors of Italy into your home.
On top of that it makes a great, nutritious and easy meal for dinner.
I served this scrumptious pasta dish with arugula salad and sourdough bread.

Orchiette con Ceci (Pasta with Chickpeas)
Ingredients
1 cup Orchiette
2 tablespoons olive oil
1 small onion, chopped
2-3 garlic cloves, chopped
2 tomatoes, chopped
1 teaspoon tomato paste
1/2 cup sun-dried tomatoes
pinch dried chili or red pepper flakes (omit or adjust to your spice preference)
1 teaspoon dried oregano
1/2 cup chickpeas (If canned, rinse well. If dried, soak overnight.)
1 cup fresh arugula
Freshly ground salt and pepper to taste

Freshly grated Parmigiano (or omit for vegan recipe
Directions
In a large skillet over medium heat, sauté the onion in the olive oil for 5 minutes.

Meanwhile bring a pot of salted water to boil for the pasta and cook pasta according to package instructions (about 8 minutes).
Add garlic, tomato paste, sun-dried tomatoes and chili/red pepper flakes. Sauté for another 5 minutes.

Add about 2 tablespoons of the water that you pasta is cooking in to your skillet. Now add the fresh tomatoes, chickpeas, oregano salt and pepper to taste. Simmer for another few minutes.
When your pasta is done, drain, and transfer to your skillet. Stir everything well for another few minutes, then turn off heat, add arugula, stir again, and place in pre-heated pasta dishes.
Serve with grated Parmigiano.
Buon Appetito!
Tanja
____
Tanja Alexandra Kern