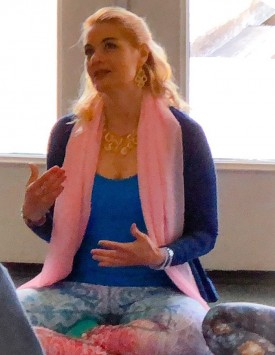 …from Jackie S.
Attending Tanja's yoga class on Friday's is my one solace during an otherwise hectic week. Tanja's practice incorporates all the fundamentals of yoga, attending has given me many opportunities to practice mindfulness, strength building, and balance. Tanja is compassionate, intuitive, kind, and really helps you develop your practice and poses. Tanja is really good at catering towards any levels of yoga and asking if there is any areas on which you'd like to focus for the day.
I attended the Spring Goddess retreat and found the day to be extremely relaxing, the provided food was delicious and homemade, and I really appreciated all the effort and hard work Tanja put in to making it a really memorable day. The Spring Goddess retreat was full of kind warm hearted women who were a welcoming community for the day. My favorite part of the day was the literal planting of our dreams as flowers which we took home to watch grow. I would definitely recommend attending any of Tanja's yoga classes or retreats.>
…from Sabine S.
The Spring Goddess Yoga Retreat on Friday was fabulous. Too bad you couldn't attend. Plenty of yoga, even outdoors. We meditated, we wrote. I cried. I laughed. We had a great lunch prepared by Tanja. We also planted some seeds, symbolizing our dreams in a pot to take home to our gardens.
Tanja puts so much thought into her retreats and I am so thankful. Love you, my dear yoga teacher.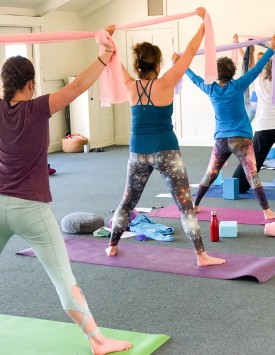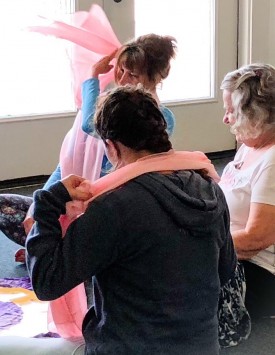 …from Suzanne L.
I attended the Spring Goddess Retreat that Tanja offered the community.
I had such a lovely day with two wonderful yoga sessions, great tea and a wonderful vegan lunch. Tanja filled the day with wonderful rituals and exercises which led me to great insight into my souls yearning.
This is my second retreat with Tanja and I can't wait until the next one. Those of you who couldn't attend really missed out on an incredible insightful day.
Tanya puts so much thought and time in creating a sacred space to do some really enlightening work.
Thank you Tanja for a lovely day.
…from Rosanna B.
We are all looking forward to Mendocino Healing's Fall Goddess Yoga Retreat. For those who haven't participated in one of Tanja's retreats, I strongly encourage you to do so. Tanja's retreats are special. They encompass everything for the body, mind and soul. You will leave relaxed with and open mind and heart. I've attended both of Tanja's retreats and have been amazed by the strong, magnificent women who also attended. Do something special for yourself! Attend the Fall Goddess Yoga Retreat on October 12th.