…from Alanna Z.
I attended the seasonal 2017 Autumn Yoga Retreat. It was about 70% yoga retreat and 30% self help workshop, so it was really multi faceted. Tanja planned the day very thoughtfully and one could really see how hard she worked to set everything up. This particular retreat was set in the Abalone room of the Little River Inn, which is a gorgeous space for a retreat of this kind: ocean views and a cozy fire place. The yoga was mild and relaxing, sort of cooling it down with the approaching change of seasons it seemed. There were also a couple guided meditations to take you deeper into yourself. Tanja also pushed us out of our comfort zones to a place where you could find deeper connections to those around you with a practice in eye to eye silence with others in the class. Delicious vegan/vegetarian snacks were provided as well as tea, which was very kind and accommodating. She even loans out a mat and blocks if you don't yet have your own, so never let that hold you back from attending. To end, Tanja is a very sweet lady to know and is a wonderful yoga teacher. Thank you Tanja for all your efforts in making sure we all had a great day of self care and yoga.>
…from Aza M.
I went to Tanja's yoga retreat a little bit ago. I really enjoyed it. She put so much effort and time into it. The location was absolutely beautiful. Not to mention the delicious snacks. I left the retreat feeling really refreshed. Tanja is an amazing teacher I'm really fortunate to have found her.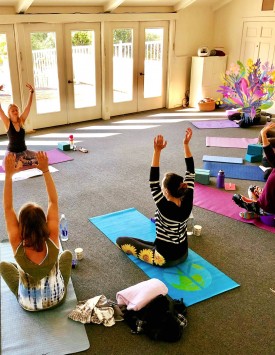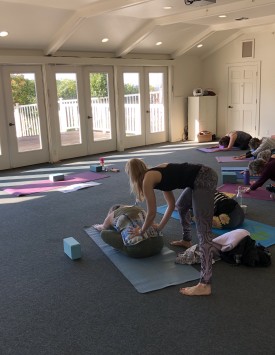 …from Sabine S.
I just attended Tanja's first yoga retreat and it was definitely a winner. There was something for everyone. Yoga, yin yoga, yoga nidra, mindfulness, sharing if you wanted to, meditation, wonderful snacks and a beautiful setting at the Abalone Room, Little River Inn. The weather was as perfect as it gets here; sunshine and the beautiful ocean right in front of us. I do yoga with Tanja three times/week but this day was extra special. If anyone is interested in future retreats, definitely contact her. Thank you for your spiritual guidance and making me strong inside and out.
…from Rosanna B.
The Autumn Yoga Retreat held at Little River Inn by Tanja of Mendocino Healing was amazing. It was a day full of activity – yoga, guided meditation, mindfulness and more. I found all the women at the retreat to be strong and powerful. They exuded confidence. How can you not feel the same way when you are around such women? We are all looking forward to the Spring Retreat in April. What's not to love about women supporting each other and being in a room with spectacular ocean views to remind us of the beautiful place we call home?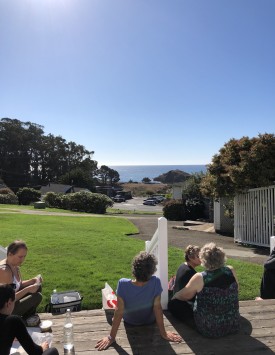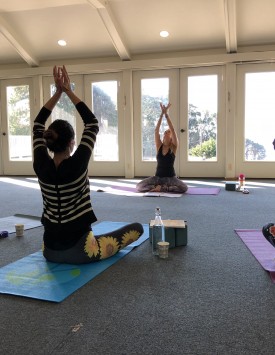 …from Suzanne L.
I have personally attended several yoga retreats. They have been weeklong events both in this country and abroad. I attended Tanya's retreat and found it to be a wonderful experience. I found the experience to support my yoga practice, my spiritual growth and an opportunity to do some personal healing. I look forward to future retreats with Tanja.
…from Lindsay W.
The Abalone Room was the perfect location for a day long yoga retreat with Tanja Kern, the best yoga teacher ever! A crackling fire made it so cozy. The day was balanced between yoga, meditations, and some breathing practices. Being a small group, Tanja was able to give us individual attention. We also learned more about aromatherapy and shared a sunny lunch on the deck with the sparkling ocean in the distance. I highly recommend attending any retreat she has in the future!